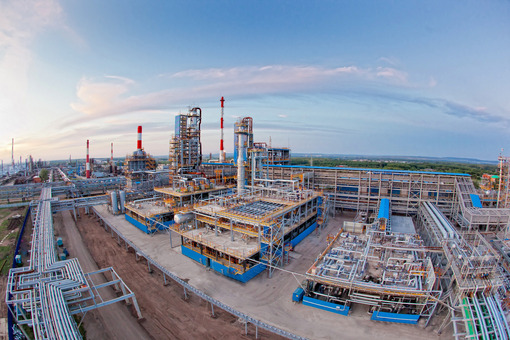 About
Gazprom neftekhim Salavat is one of Russia's major petrochemical complexes.
The Company is integrated into the Gazprom system. In accordance with the resolution of the General Shareholders Meeting dated January 28, 2011, JSC «Gazprom neftekhim Salavat» was approved as an official company name.
On October 1, 2016, the Company was reorganized in the form of transformation into LLC «Gazprom neftekhim Salavat».
The history of the Company dates back to 1948 when the construction of Industrial Complex No. 18 began in the area of the village of Bolshoi Allaguvat (Sterlitamak Region). Initially, it was designed as a plant for gasoline and diesel fuel production by hydrogenation of coal and sulfur fuel oil. After oil fields were discovered in Bashkortostan («the Second Baku»), the industrial complex production scheme underwent huge changes: it became more efficient to produce gasoline from crude oil. In the following years petrochemical production was quickly developing at the plant.
Concentration of a full cycle of hydrocarbon processing, petrochemistry and mineral fertilizers production on one site is the main advantage of Gazprom neftekhim Salavat.
The Joint Stock Company comprises the Oil Refinery, Gas & Chemical Plant and Monomer Plant.
Nowadays the Company carries out a full cycle of hydrocarbon processing and produces more than 100 different products. 50% of them are bulk products such as gasolines, diesel fuels, fuel oil, styrene, polystyrene, LDPE, HDPE, DOP plasticizer, butyl alcohols, sulphur, ammonia, urea etc.
High quality of the products of Gazprom neftekhim Salavat is confirmed by the certificates of conformity to ISO 9001 and ISO 14001, international standards of quality and environmental safety.
Oil refining and petrochemical products are shipped to all the federal districts of Russia. The export reach covers more than 50 CIS and non-CIS countries including Finland, China, Brazil, UK, Western European Countries and the Baltic states. Gazprom neftekhim Salavat has a reputation of a reliable business partner and a stable position in the key ratings of Russia.
The priority direction for the Company development is the implementation of a large-scale investment program aimed at the construction of new production facilities and the revamp of the existing plants on the basis of up-to-date, environmentally friendly technologies as well as the care for the Company's employees and Salavat citizens.
Gazprom neftekhim Salavat represents heritage of achievements!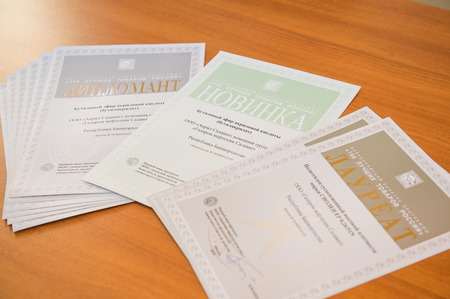 Eight items of Gazprom neftekhim Salavat production became laureates and diploma winners of the all-Russia «100 best goods of Russia» competition.