A training area for the gas rescue team and fire-fighters brought into use
August 16, 2017 2017 10:10
Gazprom neftekhim Salavat has launched a facility for skill training in extreme working conditions and aggressive environments. Equipment of the facility allows running training to form a psychological and physical readiness for acting in emergency situations.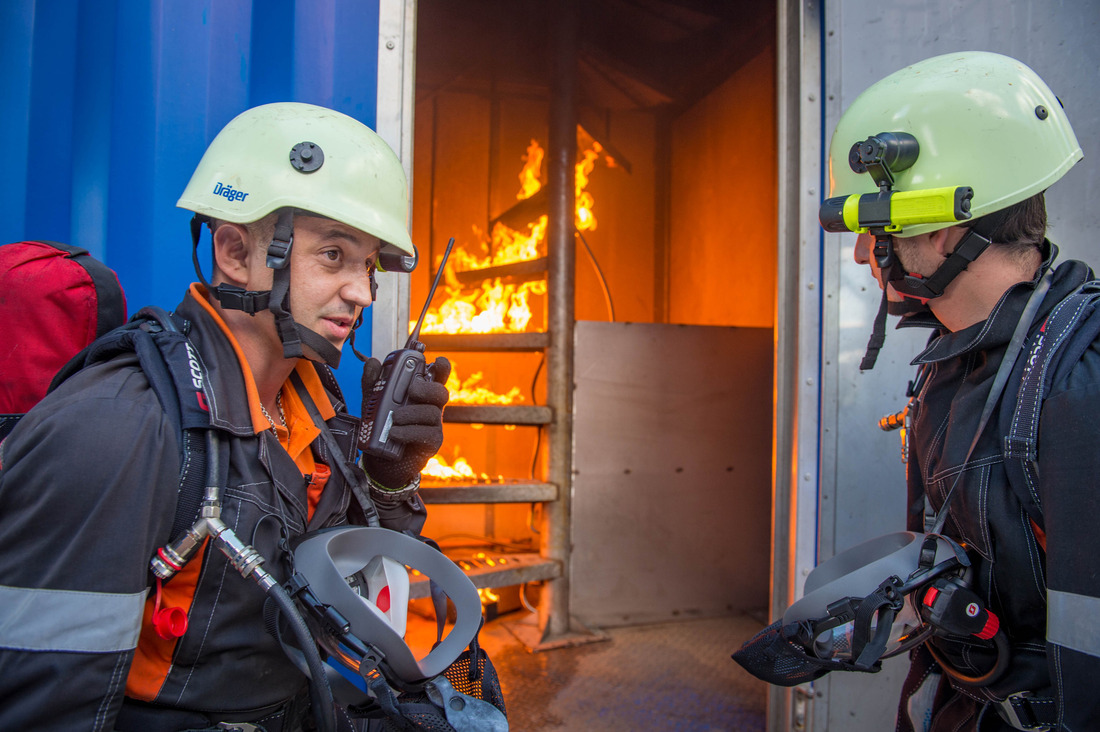 A training area for the gas rescue team and fire-fighters has been brought into use in the Company
The training facility consists of several modules: control module, smoke and heat training chamber, two fire training grounds mimicking an industrial area and a housing area, as well as rescue-from-reservoir simulator and four-storeyed drill tower exceeding 13 meters in height. Situations simulating actual working conditions of emergency personnel to the maximum extent are modelled there.
Control module is the heart of the facility. It includes two control panels and ten systems to control training simulators, sound communication, video monitoring, smoke spread, ventilation and smoke extract, application of combustible agent, emergency stopping of training and others. All these systems help to simulate various emergency situations. As for emergency drills, they take place in smoke and heat training chamber.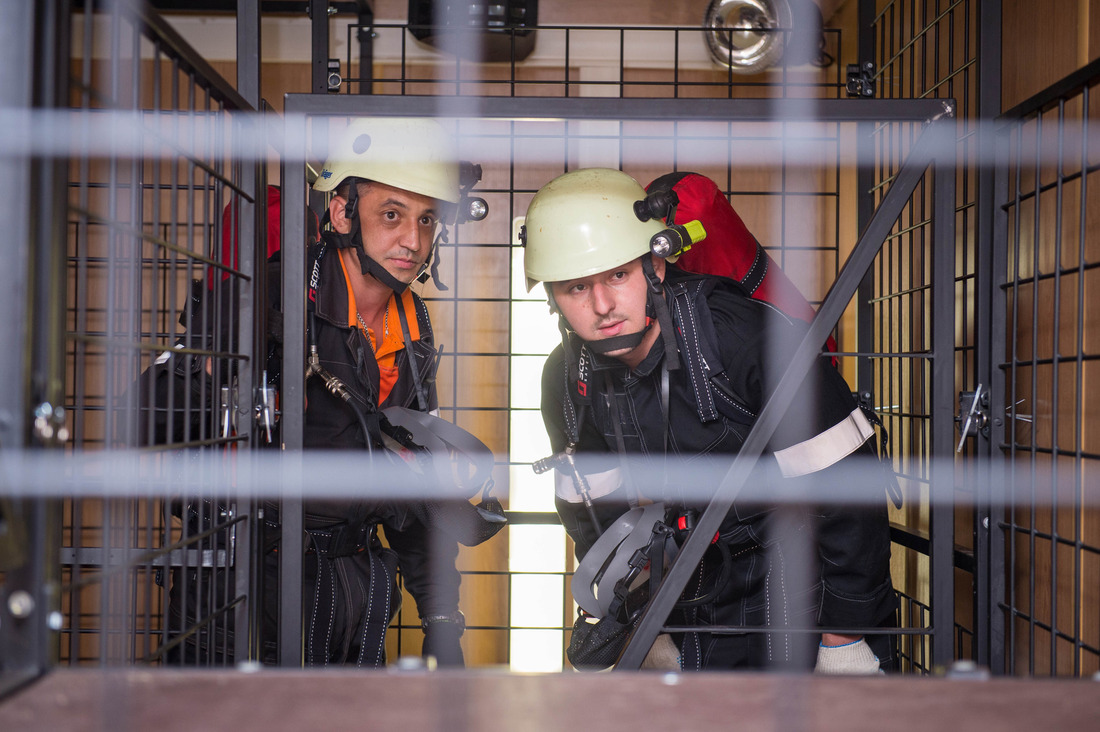 On the first floor of the training maze
Another module includes a special training room and a two-storeyed maze. The training room is equipped with a treadmill, ergometric bicycle, shoulder exercise equipment and a heater for high temperatures creation.
The training room helps to adapt the gas rescue team for acting in a high-temperature environment. After that the personnel practise in the training maze meeting challenges of search for injured people, gas leakage elimination, rubble removal.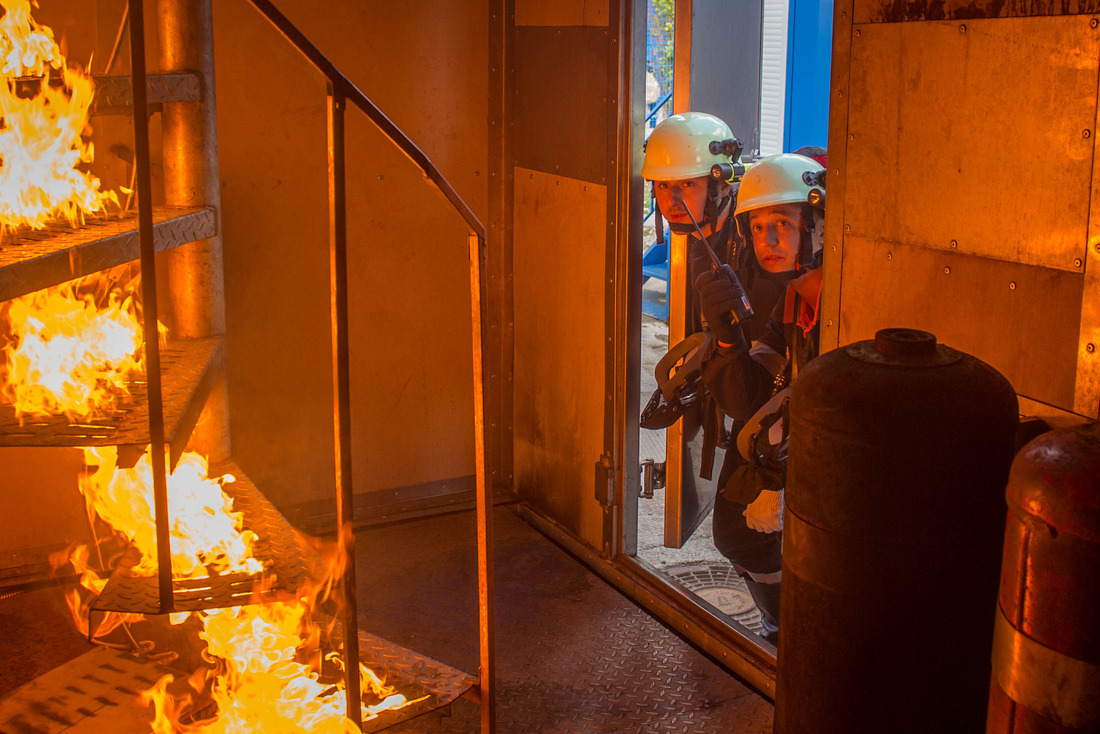 Training on firefighting simulators
Fire modules mimic an industrial area and a housing area. They are supplied with firefighting simulators such as burning staircase, burning cylinders, burning door and flame spread on ceiling surfaces. The fire actually burns there during the training.
Mine rescue simulator is designed to hone practical skills and actions for rescuing injured people from a reservoir. A winch or rope is used for rescuing. For complication of the task a smoke generator is switched on.
— 82 persons from Paramilitary Gas Rescue Squad and 79 fire-fighters from squad No. 25 of Fire and Salvage Unit will be trained at this training area — said Igor Anpilogov, Deputy Commander of Paramilitary Gas Rescue Unit of HSE Department. — Every group of personnel will undergo a complete training course during 5 months. This training area is one-of-a-kind in Bashkortostan, it is also very rare for Russia. We used to go Novomoskovsk for similar training. Now we have an opportunity to practise without leaving our esteemed company.
For reference:
Gazprom neftekhim Salavat is one of the largest oil refining and petrochemical complexes in Russia with a complete cycle of crude hydrocarbons processing. The range of products includes gasolines, diesel fuel, kerosene, other oil products, liquefied gases, butyl alcohols, plasticizers, polyethylene, polystyrene, ammonia, urea and other products. Being the major exporter in Russia, the Company constantly revamps the existing production facilities and constructs new plants, implements up-to-date automated process control systems and improves the governance structure for optimization of the Company operations.


Press office, Gazprom neftekhim Salavat

+7 3476 39-16-81