Salavat products among Top 100 Russian goods
November 16, 2018 2018 00:00
Eight items of Gazprom neftekhim Salavat production became laureates and diploma winners of the all-Russia «100 best goods of Russia» competition.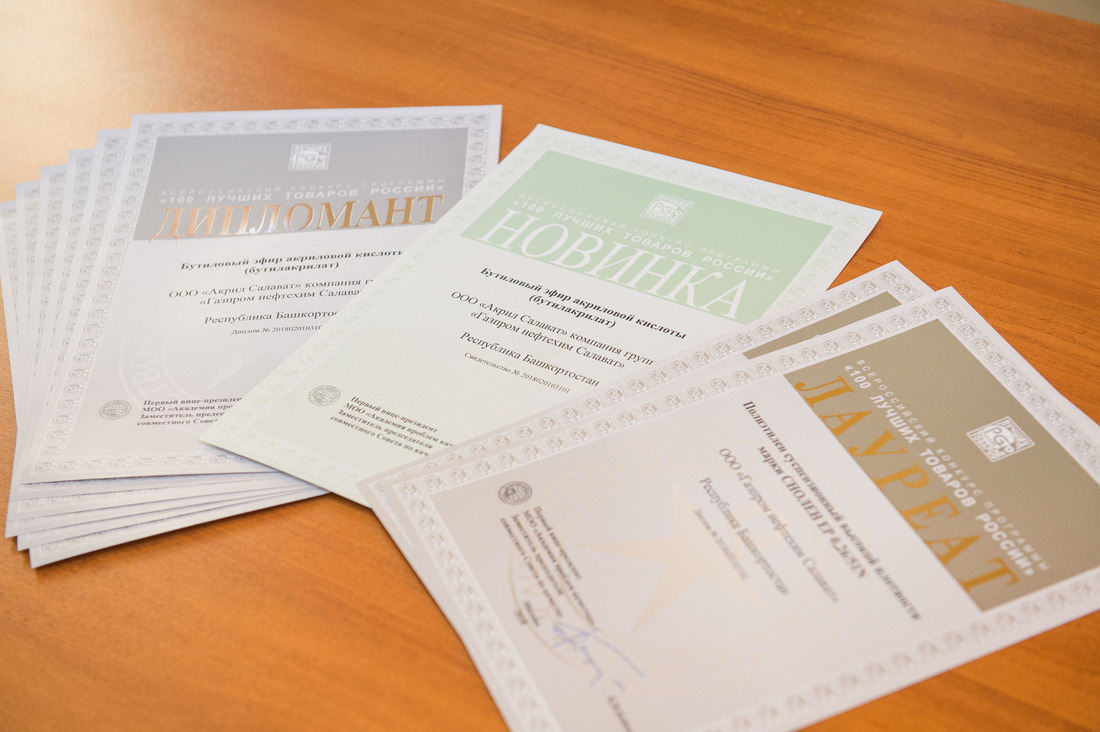 Diplomas of federal stage of «100 best goods of Russia» competition
The diploma winners of the federal stage of competition in nomination of «Commercial industrial goods» were recognized to be as follows:
Gasoline unleaded, grade AI-92-К5;
Road heavy oil bitumen, grade BND 60/90;
Acrylic acid butyl ether (butyl acrylate);
DOP plasticizer;
General purpose polystyrene PSM-E;
Diesel fuel EURO, winter, class 2, ecological class К5 (DT-З-К5).
Laureate diplomas went to Urea, grade B and Slurry high-density polyethylene SNOLEN ЕР 0.26/51 N.
Being a permanent participant of «100 best goods of Russia» competition, Gazprom neftekhim Salavat implements efficient work to achieve high quality production.
— The company has a quality policy. This allows us to ensure a stable development of plants, enhance the production efficiency, increase high-quality output that meets the requirements of customers, — Ayrat Karimov, Director General of Gazprom neftekhim Salavat, notes. — We have revised and, based on new federal rules, adopted standing technological regulations of workshops, improved the quality of inter-shop flows as well as optimized the rates of material resources consumption and production losses. On the Company's territory up-to-date units are operated with application of safe technologies, including the ecological ones. This year Gazprom neftekhim Salavat has successfully undergone a recertification audit for compliance of the quality management system with the new requirements of ISO 9001:2015.
2018 is anniversary for the all-Russia «100 best goods of Russia» competition, which facilitates enterprises and organizations to upgrade and provide a competitive edge to Russian products and services.
— The results of the competition once again clearly confirmed the effectiveness of the annually held nation-wide public campaign that reasonably and fairly has become an important means of maintaining positive changes in increasing the quality and marketability of domestic goods and services, — Elena Dubinskaya, Executive Director of Quality Academy, said in connection with completion of another stage of the all-Russia «100 best goods of Russia» competition of 2018. — Active participation in the Program and its competitive part has a positive impact on increasing the level of economic competitiveness, development of production of the best goods and services that are in high demand among consumers.
It bears reminding that the competition was established in 1998 and is held in two stages, regional and federal, in six main categories: «Food products», «Consumer industrial goods», «Commercial industrial goods», «Folk and artistic craftworks», «Public services», «Commercial industrial services». The winners are entitled to use the logo of «100 best goods of Russia» program.
Diplomas (PDF, 20 MB)
For reference
Gazprom neftekhim Salavat is one of the major petrochemical complexes in Russia. It was set up in 1948.
The Company is integrated into the Gazprom system. It has the basic advantage, consolidating on a single site a full cycle of crude hydrocarbons processing, petrochemistry and mineral fertilizers production. The Company comprises the Oil Refinery, Gas & Chemical Plant and the Monomer Plant.
Gazprom neftekhim Salavat produces more than 100 items, over 50% of which are bulk products including motor gasoline, diesel fuel, fuel oil, styrene, polystyrene, low density polyethylene, high density polyethylene, DOP plasticizer, butyl alcohols, sulphur, ammonia, urea, acrylic acid, butyl acrylate etc.
The oil refining and petrochemical products are exported to all the federal subjects of the country. The export reach covers over 50 CIS and non-CIS countries including Finland, China, Brazil, the UK, Western Europe countries and the Baltic states.
High quality of Gazprom neftekhim Salavat output is confirmed by certificates of conformity to ISO 9001 and 14001, the international standards of quality and environmental safety.
The Company's occupational health and safety management system is compliant with the requirements of OHSAS 18001 international standard.
Press office, Gazprom neftekhim Salavat
+7 3476 39-16-81