New opportunities for feedstock acceptance and products shipment
Gazprom neftekhim Salavat commenced renovation of a loading/unloading rack due to construction of the new catalytic cracking complex.
The loading/unloading rack at the site E of the Monomer plant storage facility is designed for acceptance of feedstock and shipment of end petrochemical products, such as: NGL, butylene-butadiene fraction, pentane-isoprenecyclopentadiene fraction and others. 30 tank cars may be loaded or unloaded here simultaneously.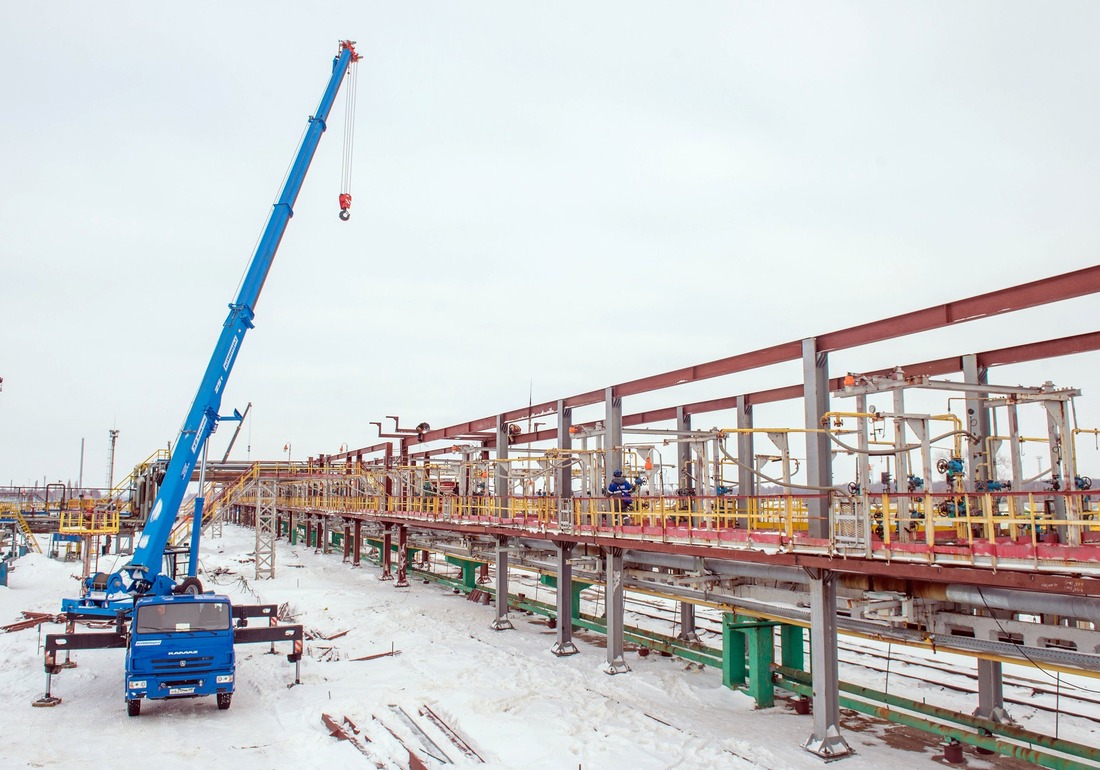 Installation of metal structures of the loading/unloading rack and the outdoor pumping station at the site E
Liquefied hydrocarbon gases, such as propane-propylene fraction and butane-butylene fraction will be additionally produced after the new catalytic cracking complex is put into operation at the Oil Refinery. The transportation will be arranged through the site E of the Monomer plant storage facility. In order to increase the capacity of the loading/unloading rack at the site E, the rack is to be renovated. In the next two years new pipelines here will be installed, railway tracks will be extended, 36 existing loading/unloading stands will undergo the re-piping, and 6 new loading/unloading stands will be installed. Therefore, the length of the rack will be increased by 36 meters.
— The project implementation will result in the ability to accept, store and ship liquefied hydrocarbon gases that will be produced by the catalytic cracking complex, — noted Rim Usmanov, Head of New Facilities Construction Department, Gazprom neftekhim Salavat.
At present, installation of metal structures of the loading/unloading rack and the outdoor pumping station is being performed at the site E. Non-operating spherical tanks have been demounted. Process pipelines are being installed from the liquefied hydrocarbon gases tank farm of the catalytic cracking complex to the site E.
For reference
Gazprom neftekhim Salavat is one of the largest oil refining and petrochemical complexes in Russia. The Complex was founded in 1948.
The Company is integrated into the Gazprom system. It has the basic advantage, consolidating on a single site a full cycle of crude hydrocarbons processing, petrochemistry and mineral fertilizers production. The Company comprises the Oil Refinery, Gas & Chemical Plant and the Monomer Plant.
Gazprom neftekhim Salavat produces more than 100 items, over 50% of which are bulk products including motor gasoline, diesel fuel, fuel oil, styrene, polystyrene, low density polyethylene, high density polyethylene, DOP plasticizer, butyl alcohols, sulphur, ammonia, urea, acrylic acid, butyl acrylate etc.
The oil refining and petrochemical products are exported to all the federal subjects of the country. The export reach covers over 50 CIS and non-CIS countries including Finland, China, Brazil, the UK, Western Europe countries and the Baltic states.
High quality of Gazprom neftekhim Salavat output is confirmed by certificates of conformity to ISO 9001 and 14001, the international standards of quality and environmental safety.
The Company's occupational health and safety management system is compliant with the requirements of OHSAS 18001 international standard.
Press office, Gazprom neftekhim Salavat
+7 3476 39-16-81