Company Prepares for Winter
July 31, 2019 2019 16:35
Within the framework of preparation for autumn-winter (2019–2020) period, LLC Gazprom neftekhim Salavat is to repair over 100 units of heat-power equipment, hanger and suspension systems, shut-off and control valves and insulation on more than 300 km long pipelines.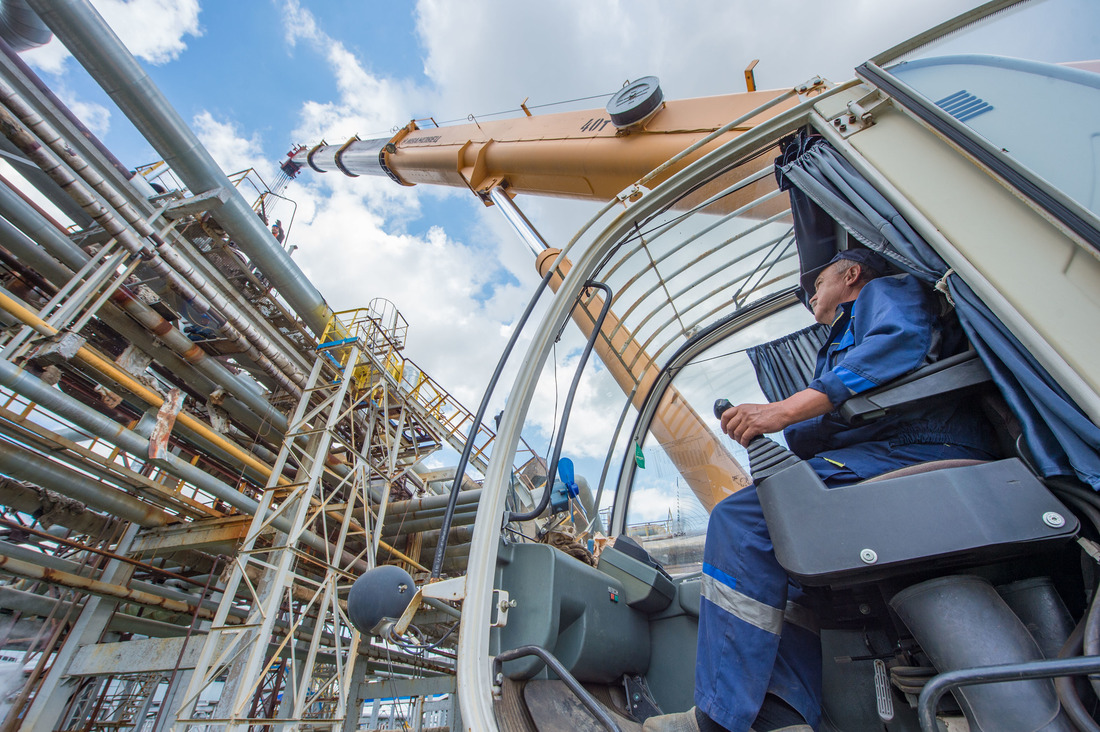 Heat supply workshop's employees working at height with a crane
Heat supply workers were tasked to prepare for autumn-winter (2019–2020) season at the beginning of spring. Their work may be rather noticeable, when several large machines are used, or less apparent with only two workers involved, but nonetheless very significant. Steady operation of the large industrial plant during cold weather is also dependent on their job.
Valve replacement at the vapour pipeline under 7 ata is performed at the Unit 14/17 outside the territory. The biggest vapour-consumer at the area under repair is an acrylic acid and butyl acrylate plant, Workshop No. 47, liquid ammonia storage. Repairing works take place at the 12-meter mark with the help of a crane.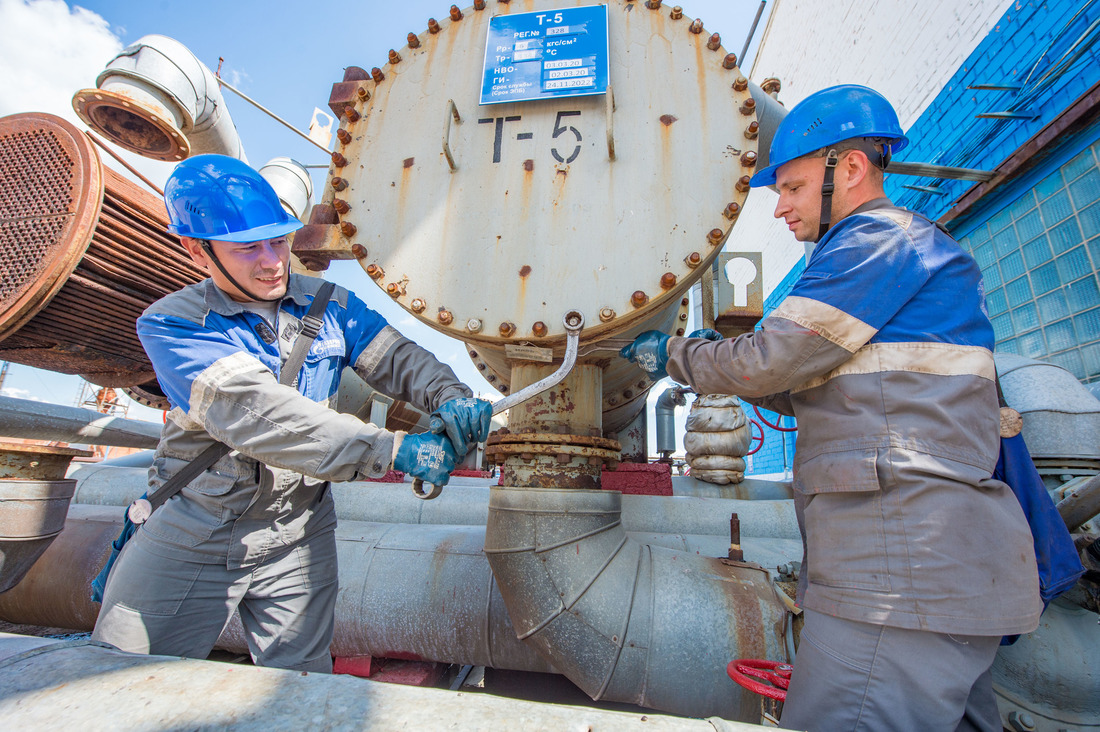 Replacement of shut-off valves at the heating water pipelines
Within the same autumn-winter framework, there are also works at condensate stations: inspection of metering stations at condensate pipes, technical maintenance and repair of pipelines, heat-exchange, vessel and pumping equipment.
Replacement of 2 shut-off valves is performed at the heating water pipelines at the Facility 250.
Possible defects at the heating water pipelines are detected during spring hydrotests. It is necessary to eliminate all defects before the heating season. This year's scope of work is comparable to the previous ones'. Employees are well familiar with all kinds of works, thus they ought to meet the deadline.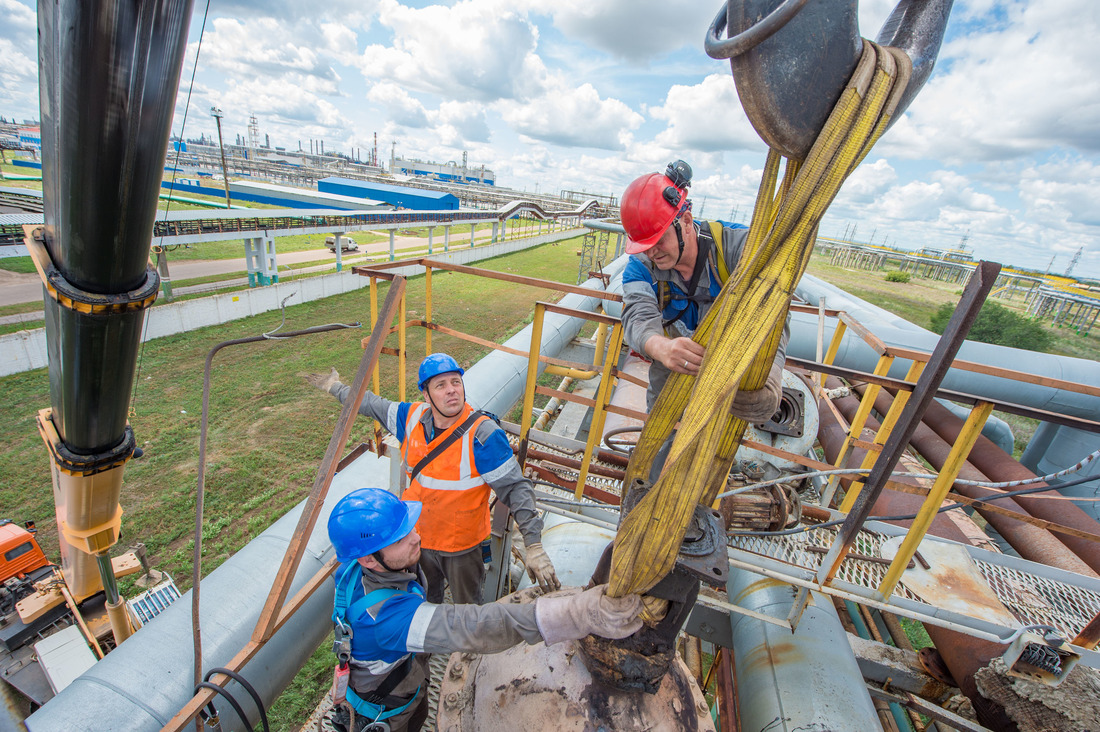 Replacement of a valve at the vapour pipeline, Unit 14/17
Repairing requires timely supply of materials, equipment and tools, as repairing of main vapour pipelines is possible only during an overhaul of the Company's workshops and units. All essential materials from storages are currently supplied according to schedule which allows to perform timely and qualitative repairs.
Thus far, during the abovementioned framework, running and capital repairs on 182 133 m of main vapour, condensate and heating water pipelines were performed, 68 heat-power equipment units, including vapour expanders, drainage units, heat exchangers, condensate vessels, were cleaned and maintained, 81 shut-off valves were replaced, and insulation on 145 m of pipelines was renewed.
For reference:
For reference:
Gazprom neftekhim Salavat is one of the largest oil refining and petrochemical complexes in Russia. The Complex was founded in 1948.
The Company is integrated into the Gazprom system. It has the basic advantage: consolidating on a single site a full cycle of crude hydrocarbons processing, petrochemistry and mineral fertilizers production. The Company comprises the Oil Refinery, Gas & Chemical Plant and the Monomer Plant.
Gazprom neftekhim Salavat produces more than 100 items, over 50% of which are bulk products including motor gasoline, diesel fuel, fuel oil, styrene, polystyrene, low density polyethylene, high density polyethylene, DOP plasticizer, butyl alcohols, sulphur, ammonia, urea, acrylic acid, butyl acrylate etc.
The oil refining and petrochemical products are exported to all federal subjects of the country. The geography of export covers over 50 CIS and non-CIS countries including Finland, China, Brazil, the UK, Western Europe countries and the Baltic states.
High quality of Gazprom neftekhim Salavat output is confirmed by certificates of conformity to ISO 9001 and 14001, the international standards of quality and environmental safety.
The Company's occupational health and safety management system is compliant with the requirements of OHSAS 18001 international standard.
Press office, Gazprom neftekhim Salavat
+7 3476 39-16-81