Gas. Oil. Technologies — 2021
May 26, 2021 00:00
Gazprom neftekhim Salavat took part in Russian Oil and Gas Chemical Forum and International Exhibition "Gas. Oil. Technologies".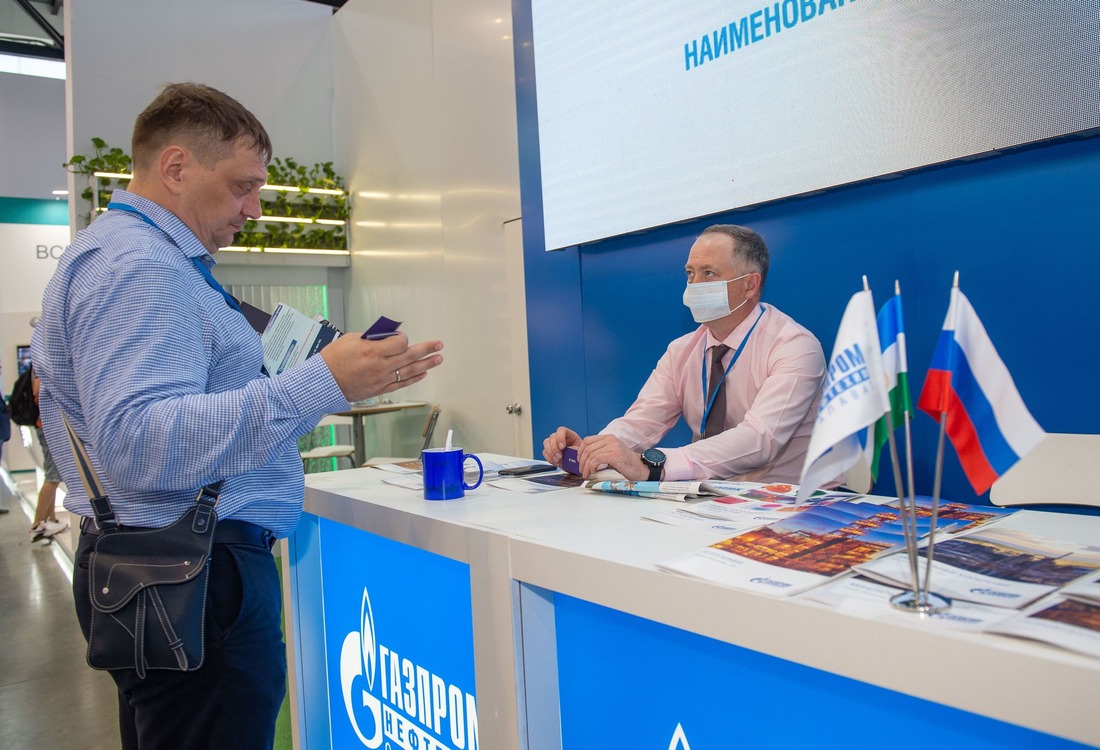 By Gazprom neftekhim Salavat stand.
While opening the exhibition Radiy Khabirov, Head of Bashkortostan, congratulated participants and guests on Oil and Gas Forum start. — Many guests come to Ufa every May to discuss key points of Russian fuel and energy sector development at Oil and Gas Chemical Forum.
It is particularly important to share new ideas, suggest new forms of collaboration in challenging situation of the pandemic, — said Radiy Khabirov.
According to Gennady Shmal, President of the Union of Oil and Gas Producers of Russia, the last year was difficult for the whole industry. Oil production was cut by 48 million tons, and sanctions also influenced the situation, nevertheless the industry kept on developing. — Bashkir oil and gas producers always stayed ahead of the curve.
Next year we will mark the 90th anniversary of the first Bashkir oil production. It would be right to mention all those people who stood at the origins of the Second Baku. Every time we attend the exhibition we can see new developments proving that the Republic moves in a positive direction, — pointed out Gennady Shmal.
The exhibition launched the revived production of washing powders at Ekol, the subsidiary of Bashkir Soda Company, as well as the gas pipeline connecting Novo-Aleksandrovka settlement and Zaton district of Ufa.
Radiy Khabirov, Head of Bashkortostan and Andrei Nazarov, Prime Minister of Bashkortostan visited Gazprom neftekhim Salavat exposition stand. Azamat Khabibullin, First Deputy Director General, Production, told about the Company operation.
After the opening ceremony Radiy Khabirov visited Gazprom neftekhim Salavat stand and listened to a brief report on the Company operation presented by Azamat Khabibullin, First Deputy Director General, Production.
Gazprom neftekhim Salavat is an annual participant of Russian Oil and Gas Chemical Forum as well as Exhibition "Gas. Oil. Technologies" which is held in Ufa for the 29th time being among major events of Russian oil and gas chemical industry. It is one of the major sites for learning about new technologies and equipment for oil and gas chemical sector. As for the Forum, it brings together hundreds of specialists from leading enterprises of the country. This year 260 enterprises from 31 subjects of the Russian Federation and foreign countries take part in the events.
For reference:
Gazprom neftekhim Salavat is one of the largest oil refining and petrochemical complexes in Russia. The Complex was founded in 1948.
The Company is integrated into the Gazprom system. It has the basic advantage: consolidating on a single site a full cycle of crude hydrocarbons processing, petrochemistry and mineral fertilizers production. The Company comprises the Oil Refinery, Gas & Chemical Plant and the Monomer Plant.
Gazprom neftekhim Salavat produces more than 150 items, over 50% of which are bulk products including motor gasoline, diesel fuel, fuel oil, styrene, polystyrene, low density polyethylene, high density polyethylene, DOP plasticizer, butyl alcohols, sulphur, ammonia, urea, acrylic acid, butyl acrylate etc.
The products are shipped to all federal subjects of the country. Export supplies of oil products are mainly directed to European and CIS countries. Petro- and gas chemicals are exported to over 30 CIS and non-CIS countries and the largest volumes are shipped to Kazakhstan, Germany, Great Britain, the Netherlands, Poland, Belgium, Finland etc.
High quality of Gazprom neftekhim Salavat output is confirmed by certificates of conformity to ISO 9001 and 14001, the international standards of quality and environmental safety.
Press office, Gazprom neftekhim Salavat
+7 3476 39-16-81