Petrochemistry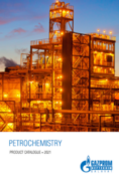 Petrochemistry. Catalogue with full description of products (PDF, 10 MB)
Contacts
Commercial Department
+7 (3476) 39-41-87
+7 (3476) 39-46-18 
Marketing department
+7 (3476) 39-11-73
+7 (3476) 39-21-04 (fax)
Industrial 2-ethylhexanol
Petroleum Benzene
Industrial Diethylbenzene
Still Residue of Phthalic Anhydride Production
Still Residue of Benzene Rectification (KORB)
Still Residue of Styrene Rectification (KORS)
DOP Plasticizer
General Purpose Polystyrene PSM-E
Low-Density Polyethylene (LDPE)
High-Density Polyethylene (HDPE — SNOLEN)
Solvent. Still Residue of Butanol Rectification
Solvent. Heavy Product of 2-Ethylhexanol Rectification
Solvent. Light N-Butanol Distillate
Heavy Pyrolysis Residue
Industrial Isobutyl Alcohol
Styrene. SDEB Grade
Butylene-Butadiene Fraction
Pentane-Isoprenecyclopentadiene Fraction
Ethylene
Production
Petrochemistry is one of the main directions of Gazprom neftekhim Salavat development.
The Company's petrochemical sector comprises Monomer Plant with its ethylene/propylene facilities, plastics production units and alcohols and plasticizers production units.
The Company's long-term development plans include increasing the HDPE capacity and the capacity of EP-355 pyrolysis production unit to 380 kta as well as construction of SAP production plant.
Message for customers
We inform you on results of SNOLEN EP 0.26/51N (natural) tube grade testing as per STO 00203521-001-2009 with rev. 1–3 produced by Gazprom neftekhim Salavat LLC and tested in Exova Materials Technology AB, one of the biggest independent accredited test laboratories, now renamed as Element Materials Technology and recommended by Basell Polyolefine GmbH, the Hostalen technology licensor (workshop No. 20, Monomer plant) according to which the classification of minimum required strength (MRS) is 10 MPa and so that it is defined as PE 100 as per GOST ISO 12162–2017.
Statement of ElementMaterials Technology (PDF, 95 KB)