Priority project
A new industrial sulphur plant has started commissioning works.
Industrial sulphur production unit with the capacity of 60 000 tons is an investment project of the company aimed to reduce harmful emissions into the atmosphere. The new plant will allow recovering an additional amount of hydrogen sulfide accumulated after start-up of the new Catalytic Cracking Complex and revamp of Hydrotreatment Units.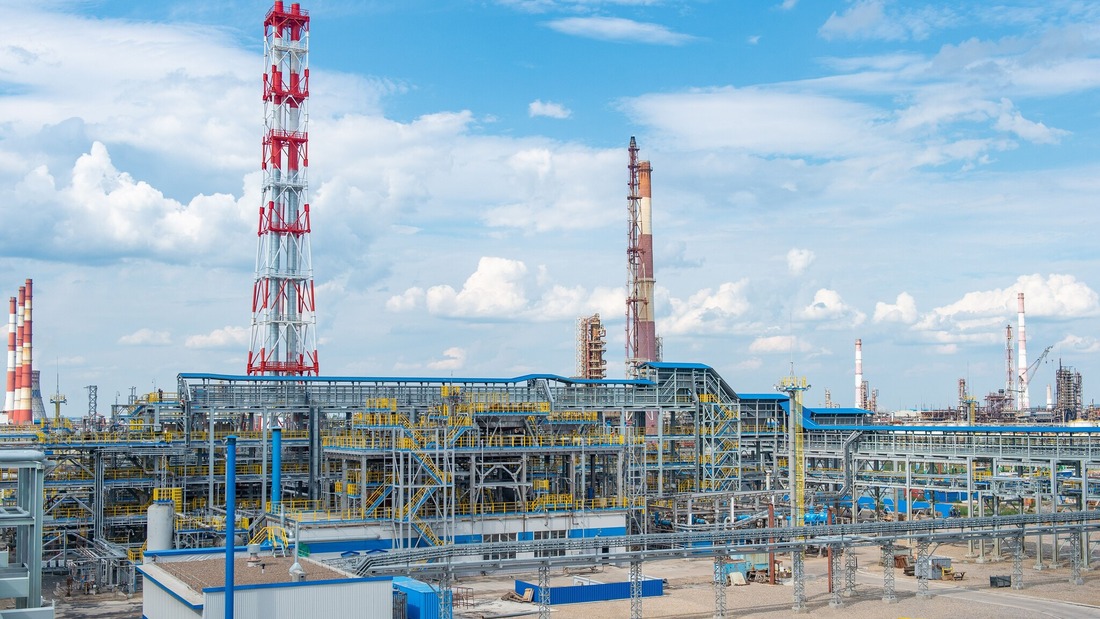 In particular, the new industrial sulphur production unit will help reduce the emissions of air pollutants by 4,670 tons per year due to an increased hydrogen sulfide conversion from 96% to 99.2%. The total gross emissions into the atmosphere will be reduced by 15%, and SO2 (sulphur dioxide) emissions — by 30%. The processing product of hydrogen sulfide containing gas will be industrial sulphur, a commercial product which is in demand on the market. This project for the construction of industrial sulphur production unit is included in the List of priority investment projects of the Republic of Bashkortostan.
The unit consists of 3 sections: Thermal and Catalytic Oxidation, Off-Gas Incinerator and Liquid Sulphur Degassing. Moreover, it also includes 3 supporting sections such as Feed Water Conditioning Section, Rail Tank Car Filling Section and Block Sulphur Warehouse. The technology is based on the Claus process consisting of thermal and catalytic stages. The main technological solution that will include an environmental perspective is the Off-Gas Incinerator which incinerates the residual hydrogen sulfide left after the thermal and catalytic stages of hydrogen sulfide conversion.
Construction and installation works at the new production facility are currently near completion. The company started commissioning with running individual tests of certain equipment, checking application software of the higher-ranking automated process control systems and adjusting electrical equipment control circuits.
In the technological scheme of the Oil Refinery hydrogen sulfide containing gas is formed as a by-product at Hydrotreatment, Gas Fractionation and Sulphur-Alkaline Wastewater Neutralization Units, as well as at Catalytic Cracking Units. The operating elemental sulphur production plant recovers (processes) it to produce technical sulphur. When the new industrial sulphur production unit is put into operation, it will continue its work. Thus, two production facilities will be able to purify all hydrogen sulfide containing gas accumulated at the industrial site of Gazprom neftekhim Salavat.
For reference:
Gazprom neftekhim Salavat is one of the largest oil refining and petrochemical complexes in Russia. The Complex was founded in 1948.
The Company is integrated into the Gazprom system. It has the basic advantage: consolidating on a single site a full cycle of crude hydrocarbons processing, petrochemistry and mineral fertilizers production. The Company comprises the Oil Refinery, Gas & Chemical Plant and the Monomer Plant.
Gazprom neftekhim Salavat produces more than 150 items, over 50% of which are bulk products including motor gasoline, diesel fuel, fuel oil, styrene, polystyrene, low density polyethylene, high density polyethylene, DOP plasticizer, butyl alcohols, sulphur, ammonia, urea, acrylic acid, butyl acrylate etc.
The products are shipped to all federal subjects of the country. Export supplies of oil products are mainly directed to European and CIS countries. Petro- and gas chemicals are exported to over 30 CIS and non-CIS countries and the largest volumes are shipped to Kazakhstan, Germany, Great Britain, the Netherlands, Poland, Belgium, Finland etc.
High quality of Gazprom neftekhim Salavat output is confirmed by certificates of conformity to ISO 9001 and 14001, the international standards of quality and environmental safety.
Press office, Gazprom neftekhim Salavat
+7 3476 39-16-81