New Equipment for Catcracking Complex
Catcracking Complex construction is underway at the Oil Refinery. The main fractionating column К-1201 of more than 80 tons in overall weight has been transported to the construction site. It is designed for cracked products separation into wet gas, gasoline, light gasoil and heavy residue.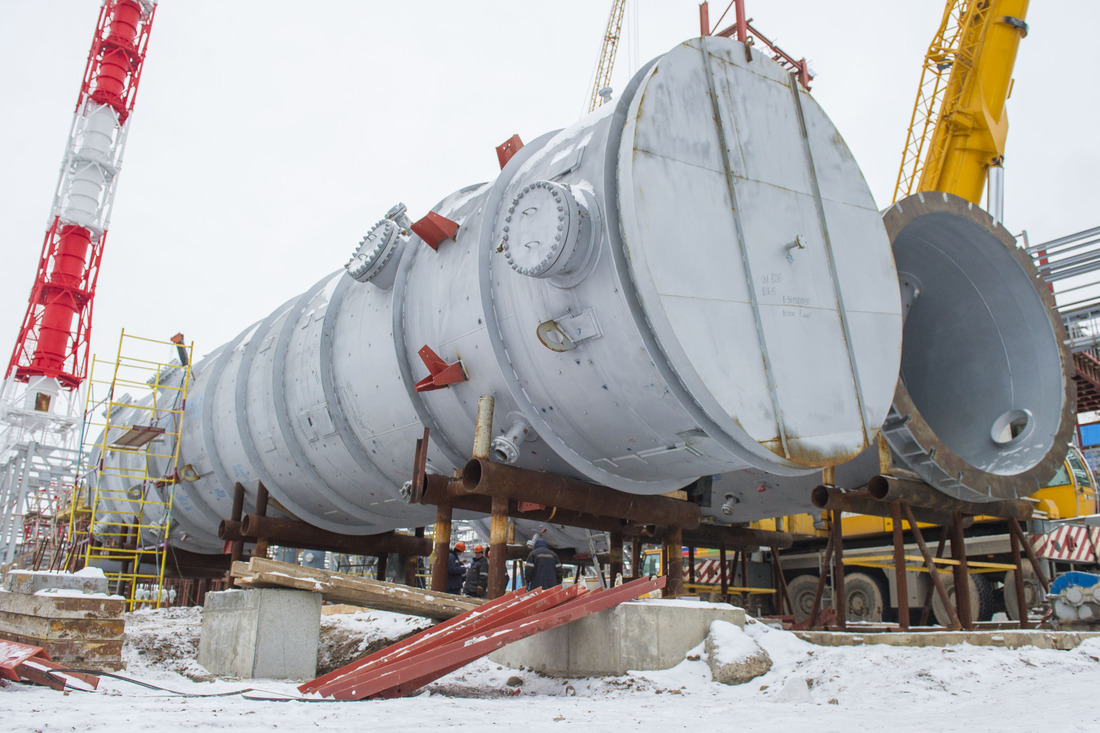 New equipment for catcracking complex
Besides, a spent catalyst hopper Е-1102 of 260 m3 in volume has been transported to the site. At present, preparatory works for the installation of a flare stack and two columns (the main fractionating column К-1201 and К-1205 column, a debutanizer where a propane-butane fraction will be separated from gasoline fraction) are being carried out at the construction site.
The new catcracking complex is designed for vacuum gasoil conversion from ELOU AVT-6 and ELOU AVT-4 units. As a result, a high-octane number component of commercial gasolines meeting the technical regulations requirements will be obtained. The complex will comprise fluid catalytic cracking (FCC) unit, a gasoline selective hydrotreating unit and a flare stack, liquefied hydrocarbons tank farm and a circulating water unit.
For reference:
Gazprom neftekhim Salavat is one of the largest oil refining and petrochemical complexes in Russia with a complete cycle of crude hydrocarbons processing. The range of products includes gasolines, diesel fuel, kerosene, other oil products, liquefied gases, butyl alcohols, plasticizers, polyethylene, polystyrene, ammonia, urea and other products. Being the major exporter in Russia, the Company constantly revamps the existing production facilities and constructs new plants, implements up-to-date automated process control systems and improves the governance structure for optimization of the Company operations.

Press office, Gazprom neftekhim Salavat

+7 3476 39-16-81