A New Scheme Is Being Implemented
The first stage of the propane-propylene fraction (PPF) transfer scheme from Catalytic Cracking Complex of the Refinery's Shop No. 4 to butyl alcohols production of Shop No. 52 was completed.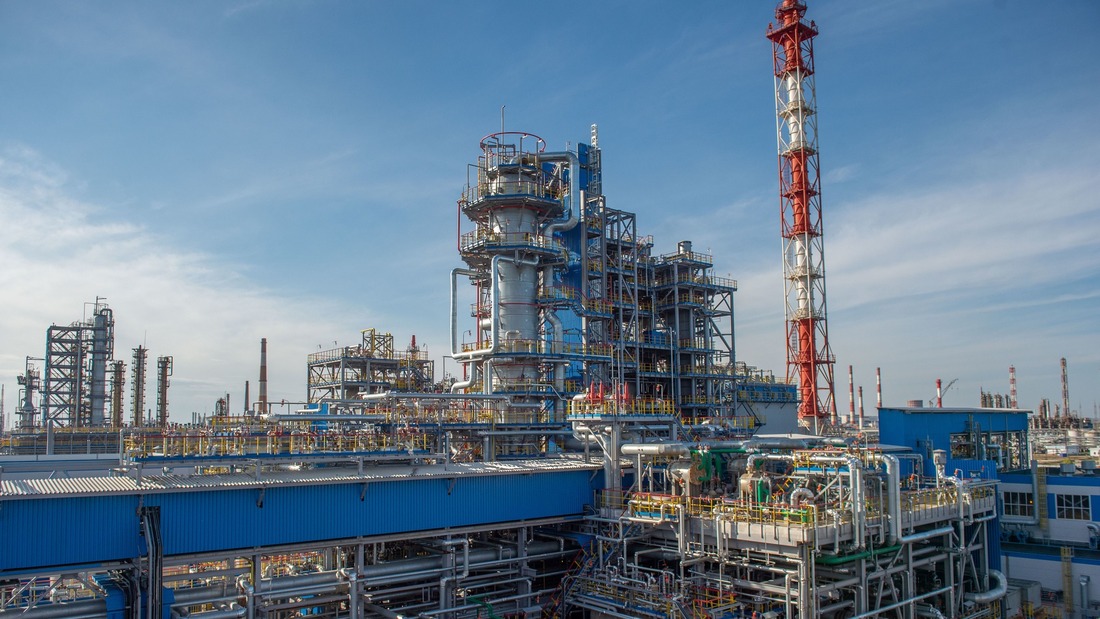 The Refinery's Catalytic Cracking Complex
At the Unit of cobalt naphthenate preparation and cobalt extraction from still residues, Monomer Plant, Shop No.52, construction has been completed for the first stage of the project "Technical revamping of the hazardous production facility, Gazprom neftekhim Salavat, Monomer Plant, Shop No.52. Installation of the processing scheme on PPF from Catalytic Cracking Complex".
— The feedstock for butyl alcohol production in Shop No.52 is synthesis gas, hydrogen from Shop No.51 and propylene from EP-355 Unit, — says Rishat Gadiatullin, Head, Shop No.52. — Involvement of propane-propylene fraction from Shop No.4 (Catalytic Cracking Complex) into feed of Shop No.52 allows to reduce cost of normal butyl and isobutyl alcohols obtained in Shop No.52 and also products along the whole process chain: 2-ethylhexanol of Shop No.34 and DOP plasticizer of Shop No.48.
The second stage of the project, which includes the installation of shut-off and control valves, flow meters, a sampling point and platforms, will continue during the overhaul of Shop No.52 in May/June, 2022.
For reference
Gazprom neftekhim Salavat is one of the largest oil refining and petrochemical complexes in Russia. The Complex was founded in 1948.
The Company is integrated into the Gazprom system. It has the basic advantage, consolidating on a single site a full cycle of crude hydrocarbons processing, petrochemistry and mineral fertilizers production. The Company comprises the Oil Refinery, Gas & Chemical Plant and the Monomer Plant.
Gazprom neftekhim Salavat produces more than 150 items, over 50% of which are bulk products including motor gasoline, diesel fuel, fuel oil, styrene, polystyrene, low density polyethylene, high density polyethylene, DOP plasticizer, butyl alcohols, sulphur, ammonia, urea, acrylic acid, butyl acrylate etc.
The products are shipped to all federal subjects of the country. The main destinations for exports of petroleum products are European and CIS countries; for petroleum and gas chemical products — more than 30 CIS and non-CIS countries, with the largest volumes of petroleum and gas chemical products exported to Kazakhstan, Germany, Great Britain, the Netherlands, Poland, Belgium, Finland and others.
High quality of Gazprom neftekhim Salavat output is confirmed by certificates of conformity to ISO 9001 and 14001, the international standards of quality.
Press office, Gazprom neftekhim Salavat
+7 3476 39-16-81